Food has been a common theme in still life paintings for centuries; historical studies show that the Greeks and Romans took great pride in their realistic depictions of food through paintings and drawings. A glass bowl of fruit was commonly featured in Roman paintings to display the delicacies the rich citizens of Rome enjoyed, and to portray the generous hospitality they had to offer.

In the past century, artists have taken to represent more contemporary food. Andy Warhol's Campbell Soup Cans are a prime example of this development within Pop art. Many Hyperrealists have since developed this concept by painting modern foods and condiments in still life paintings.
David Finnigan's '101' is not a traditional romantic image, certainly, but the hues, shapes and composition all work together to create an undeniable mood that captures the viewer's attention. Food in art is still very prevalent today and no doubt it will remain so as long as both art and food exist in the world.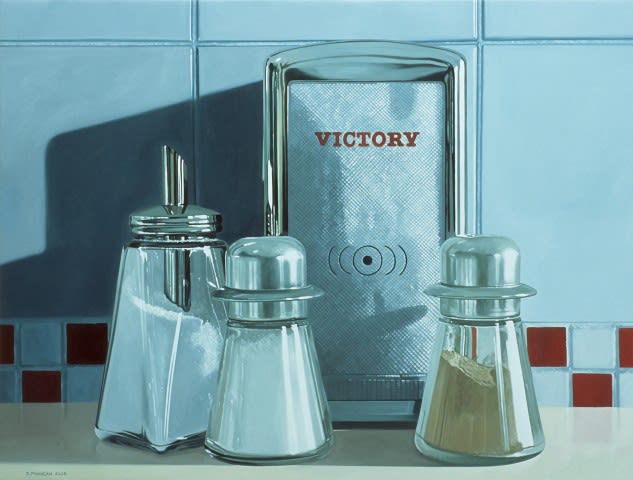 "101" - Oil on linen, 81 x 107cm

In an era where the media's oversaturation of bodily ideals has fuelled a worldwide beauty addiction, gluttony and indulgence have become something of a sin. Many of us choose to consume natural and healthy foods, forgetting primal pleasures and how food can comfort the soul. Some hyperrealists have challenged this notion by transforming photographs of mouth- watering sweet treats into equally sensory-arousing, two-dimensional tributes.

Jason Walker's oil on panel paintings of donuts are a visually-satisfying substitute for the sweet tooth. While many foods can be sensual, desserts (in Walker's case donuts), are an extravagant form of temptation.
Using oil paints enables Walker to capture the luscious, tempting nature of the donut, with its enticing textures, colours and shapes. In 'Chocolate Donut', the light and fluffy deep-fried dough is contrasted against a stark black background. Light glistens on the surface of the tantalising chocolate icing, seducing our taste buds and capturing the beauty of this delicious indulgence with its thick and tasty textures.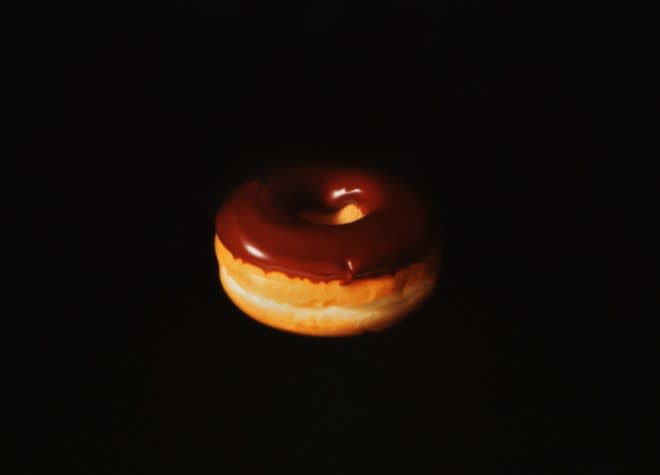 "Chocolate Donut" - Oil on panel, 35.5 x 30cm
British artist Tom Martin holds a strong interest in healthy living and wellbeing as seen in his paintings of fruit, vegetables and health foods. But even he is not immune to the sweet temptation of sugary desserts and confectionary.

In 'Sundae on a Sunday', the enjoyment of food is clear to see. Martin perfectly captures the variation of textures in this sweet ice cream dessert, using a vibrant colour palette, bringing flavours to life. The deep red hues of strawberry and raspberry syrup infuse with the softer tones of vanilla ice cream and whipped cream, while a sprinkling of blueberries and almonds add fruity and crunchy textures to the composition. The sundae is topped with a generous dollop of cream, sliced strawberries and two chocolate wafers, the moist succulence of the berries contrasting against the crispy texture of the wafers. In its entirety, the acrylic painting looks good enough to eat.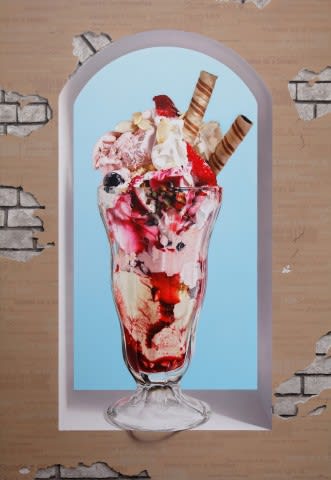 "Sundae on a Sunday" - Acrylic on aluminium composite panel, 160 x 100cm
But the indulgence of 'Sundae on a Sunday' is not always apparent in Martin's work. In 'Contemplation' a vulnerable nude female is seated upon oversized chocolate confectionary. As the title of the work would suggest, the female appears to be deep in thought, perhaps contemplating whether to accept her desire and abandon herself to the pleasure of chocolate. This piece is reflective of modern day society – our fixation with beauty is a barrier to our enjoyment of desserts and confectionary.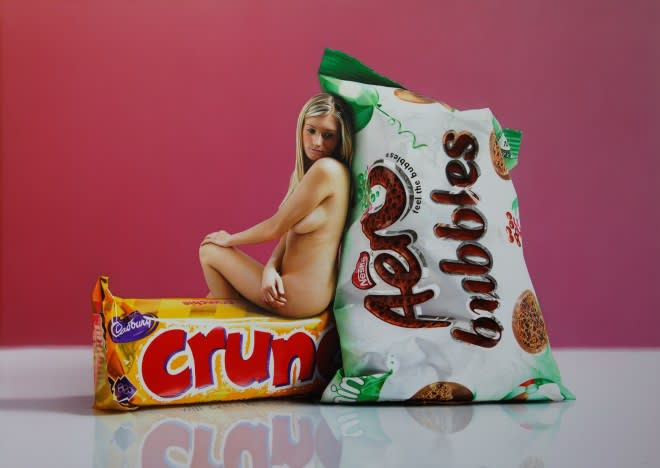 "Contemplation" - Acrylic on aluminium panel, 100 x 140cm
Nourine Hammad has also explored the world of confectionary. Working in pastels, pencils and charcoal, Nourine Hammad uses materials rarely seen in hyperrealism. Her works are so excruciatingly simple and complex at the same time it's hard to believe they're not the real thing. In 'Lollipops', the striking use of colour and the effective use of light on the cellophane wrapping makes it seem as though you can pick each lollipop right off the page.
"Lollipops" - Mixed media on paper, 59 x 74cm
In 'Life is Like a Box of Chocolates', Hammad suggests somebody has given in to the temptation of an appealing selection of chocolate treats. Six assorted chocolates remain, depicted alongside a couple of empty wrappers and spaces where chocolates would have been.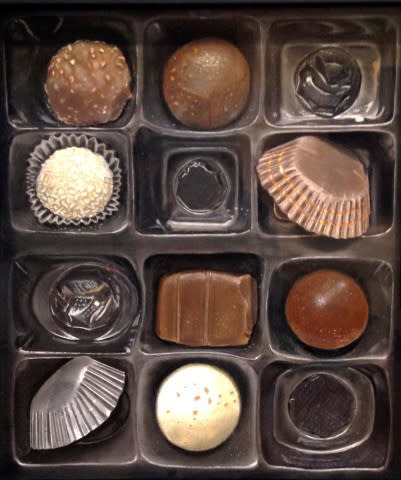 "Life is Like a Box of Chocolates" - Mixed media on paper, 49 x 43cm
The great thing about making art about food is that it is all around you. Even the littlest snacks or everyday family meals can be a source of inspiration and this is always going to be the case. Society has come to place so much attention on body image and health, but Walker, Martin and Hammad portray the enjoyment of food reflected in their sensuous use of colour and textures, reminding us to embrace the delicious gifts of life that go beyond mere sustenance.
Related artists