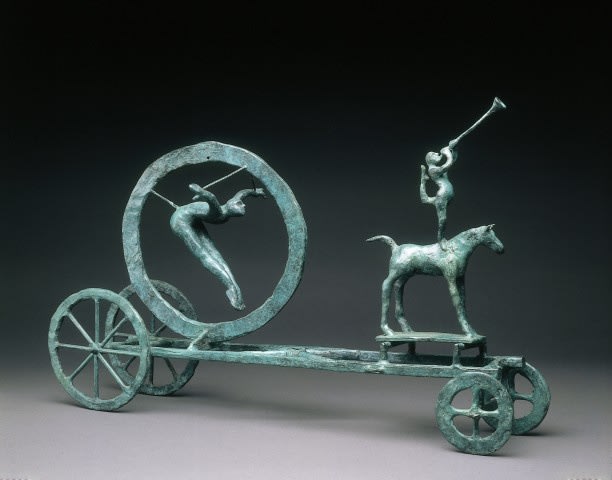 Quick Review
Born: 1964, Nebraska
Studied: MA in Sculpture at Royal College of Art, London
Work: Thomas Ostenberg's sculptures explore the theme of motion and balance, reflecting his personal search for emotional and spiritual equilibrium. For him, the work "touches on the moment of stepping into the unknown and doing so willingly."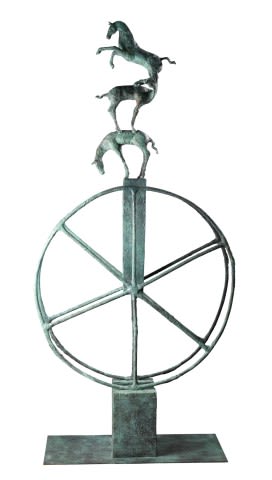 "The Ladder" - Bronze, 197 x 90 x 41 cm
In many of Thomas Ostenberg's sculptures his characters are playing a careful balancing act, like performers in a circus. You can see the instability of life in the figures offset by the strength represented in the animals and geometric shapes that form the base.
This reflects the changes that Thomas Ostenberg has gone through within his life. The ex-Vice President of Citibank in Brazil and Spain grew up on a ranch in Colorado and became a sculptor at the age of 40. He creates fluid, static and strong pieces that reflects these changes.
"I worked in international finance for fifteen years, but abandoned that life. As a result, my work is largely autobiographical. It derives its sources from moments of significant and radical change".

- Thomas Ostenberg
With this in mind, his bronze figures of animals and humans performing acrobatic balancing acts take on a deeper meaning of his personal search for emotional and spiritual equilibrium. In his words, his work "touches on the moment of stepping into the unknown and doing so willingly".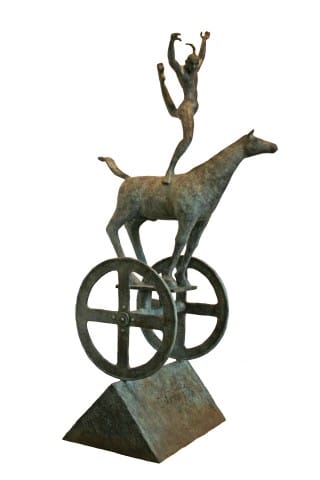 "Sometimes a Great Notion" - Bronze, 210 x 65 x 110 cm
His pieces are whimsical and playful, whilst maintaining a strength of materiality and architecture. Some are impressively large reaching over two meters tall, others beautifully small at 25.5 cm. This small elegance makes them perfect for inside the home, whilst the weather has a beautiful effect on the bronze if placed outside.
Ostenberg's sculptures balance between the figurative and abstract, they are removed from the restraints of reality and yet they are full of tension existing between these two worlds. For this they are transitional and frozen, evoking a sense of motion suspended. They convey movement with a powerful stillness like a photograph of somebody about to jump.
"Wing and Prayer I, Edition 2/8" - Bronze, 200 x 150 x 150 cm
Ostenberg's sculptures are narrative and emotive, they hope to represent but not replicate. He says of his work "I too wish to communicate through my art. I want to stimulate emotions and establish an atmosphere that allows the viewer to feel and experience art they might find meaningful".
We all want to be told stories especially ones that contain such exciting characters. There are so many ways to connect with his pieces if it isn't through the animals and figures, then it is through the raw materiality of his works.
"The power and durability of his finished pieces belie his approach to the medium, which is often quite fluid and intuitive".

- http://www.thomasostenberg.com/biography.php
It is the names of these pieces that give you the real clues, for example "But, I Feel Fine", "Dreamer", "Wing and a Prayer" and "Leap of Faith". They beautifully sum up everything that Ostenberg talks about within his work and the effects they have on others. They give us clues into the biographical nature of his work, compiled with the knowledge of his previous jobs to which he made a leap of faith into the art world, and is still dreaming; we enter his world.
They inspire an almost child-like quality to dream big. That change is positive and the unknown isn't that scary.

"Question of Perspective" - Bronze, 160 x 40 x 110 cm
Related artist