Quick Review
Born: 1974
Lives: Rome
Work:
"For me there is nothing simpler - I look around and I let myself be inspired by all that surrounds me. So for instance a basket of fruit on a table, a candy store, some glasses on a bar counter etc. They can all become paintings."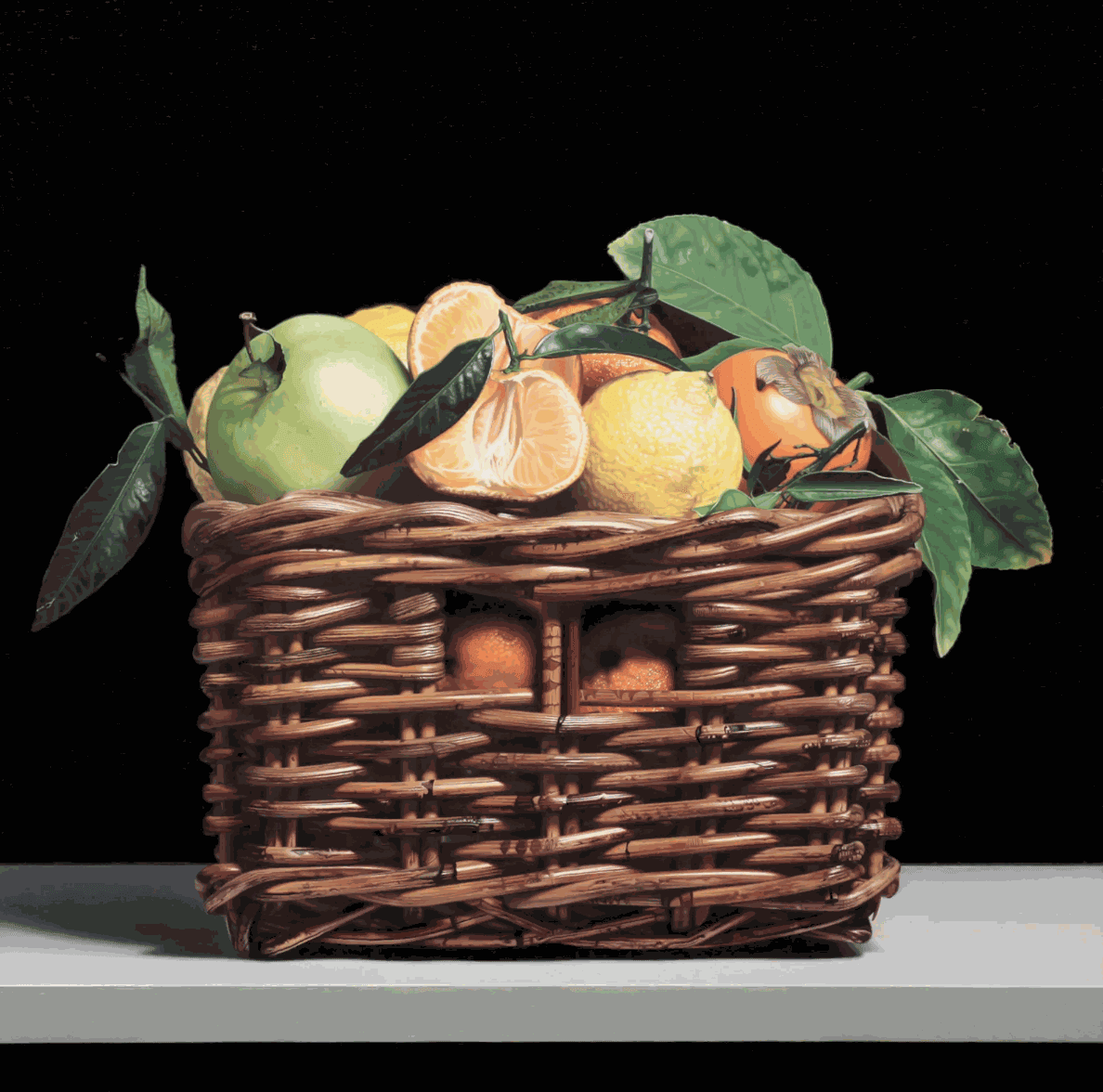 'Fruitful Intertwining' Oil on canvas, 60 x 60cm'
From as early as Bigioni can remember, he has had the need to draw and paint, "It has always been the form of expression that completed me most."
Not coming from a family of artists, his parents were part of the so-called working class. His father, however, had many books dedicated to art and, working as a tailor in the center of Rome, was a friend to several painters (for many of whom he had made clothes). Over the years these artists gifted his father some of their paintings. Many times a young Adolfo would visit these artists with his father - spending hours playing with their paint's while his father and his friends socialised.
During high school, he began to study and expand his knowledge on different areas of painting - particularly in the XVI and XVII Sec as well as contemporary artistic movements. Among other forms, he became very fond of the impressionists and, in these high school years, he had his first experience of the hyperrealist movement.
"I think because of this upbringing it was quite natural for me to direct my studies towards artistic subjects after my secondary schooling."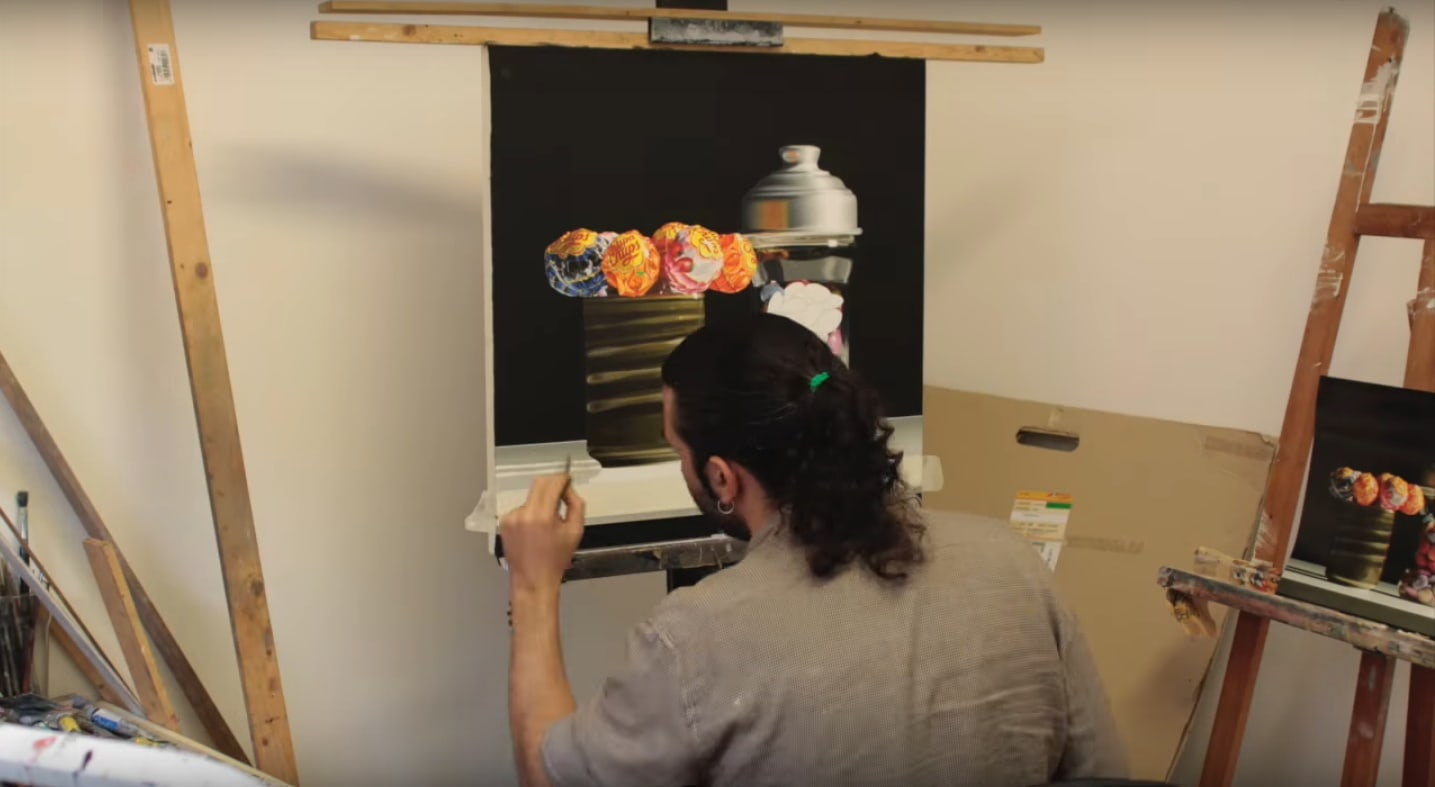 'Adolfo Bigioni in the studio via KiaraTV Youtube.'
On what inspires his work..
"For me there is nothing simpler - I look around and I let myself be inspired by all that surrounds me. So for instance a basket of fruit on a table, a candy store, some glasses on a bar counter etc. They can all become paintings."
Once Bigioni decides on the subject, he takes several photos, illuminating the composition in only two ways, with a light perpendicular from the top and from the right. Photography is fundamental to his technique, because it allows him to create a "frame" that stops a moment in which the light never changes.
When this first part of the work is finished, he begins to draw on the canvas.
"I make sure the drawing is very detailed,not a simple sketch of the forms. It can take between two or three days to do this. A single painting can be worked with different techniques. Some parts can be made with veils of color, other parts with grisaille (a monochromatic base on which the color is then veiled) and other parts still "Alla Prima", that is, without subsequent veiling."
Bigioni was a medical illustrator by trade before deciding to be pursue art full time. In his own words there are 2 reasons why he decided to gradually abandon medical illustration for painting.
The first reason lies in the fact that the field of illustration in which he worked was intimately linked to scientific interpretation, and therefore left little or nothing to creative expression. It could be argued that hyperrealism is also intimately linked to reality he says. But he argues that it is a reality that comes from him and from his imagination in the creation of subjects.
"The objects I paint are real, but I decide how to interpret them, in medical-surgical illustration there is no arbitrariness - it is the science which dictates the rules, and ultimately what you draw or paint."
The second reason he decided to change was that this type of illustration is progressively and inexorably moving into the digital realisations, and, even if he is sure that in this context it is a fundamental help, as far as Bigioni is concerned, the computer is definitely not the tool with which to replace pencils and brushes to illustrate or, more generally, make figurative art.
On why he decided to focus on still life..
Still life tends to be the main focus of Bigioni's work. He puts this down to the fact that still life allows him, rather than other themes, to stage both the analogy and the difference between reality and artistic representation, to reveal a different point of view compared to those things, to those objects that we usually do not pay attention to, which pass under our eyes every day and on which we pose a distracted look.
"Objects that, perhaps, we have had in our hands hundreds of times and not once have aroused our interest as observers. Here, I place them in the center of a canvas and suddenly they are no longer objects, but are transformed into subjects that awaken, in those who look at them, an attention that becomes, sometimes, even redundant, as if, suddenly, you go to fill all the previous "distraction"."
We asked Adolfo to talk about his painting 'The company of Bacchus'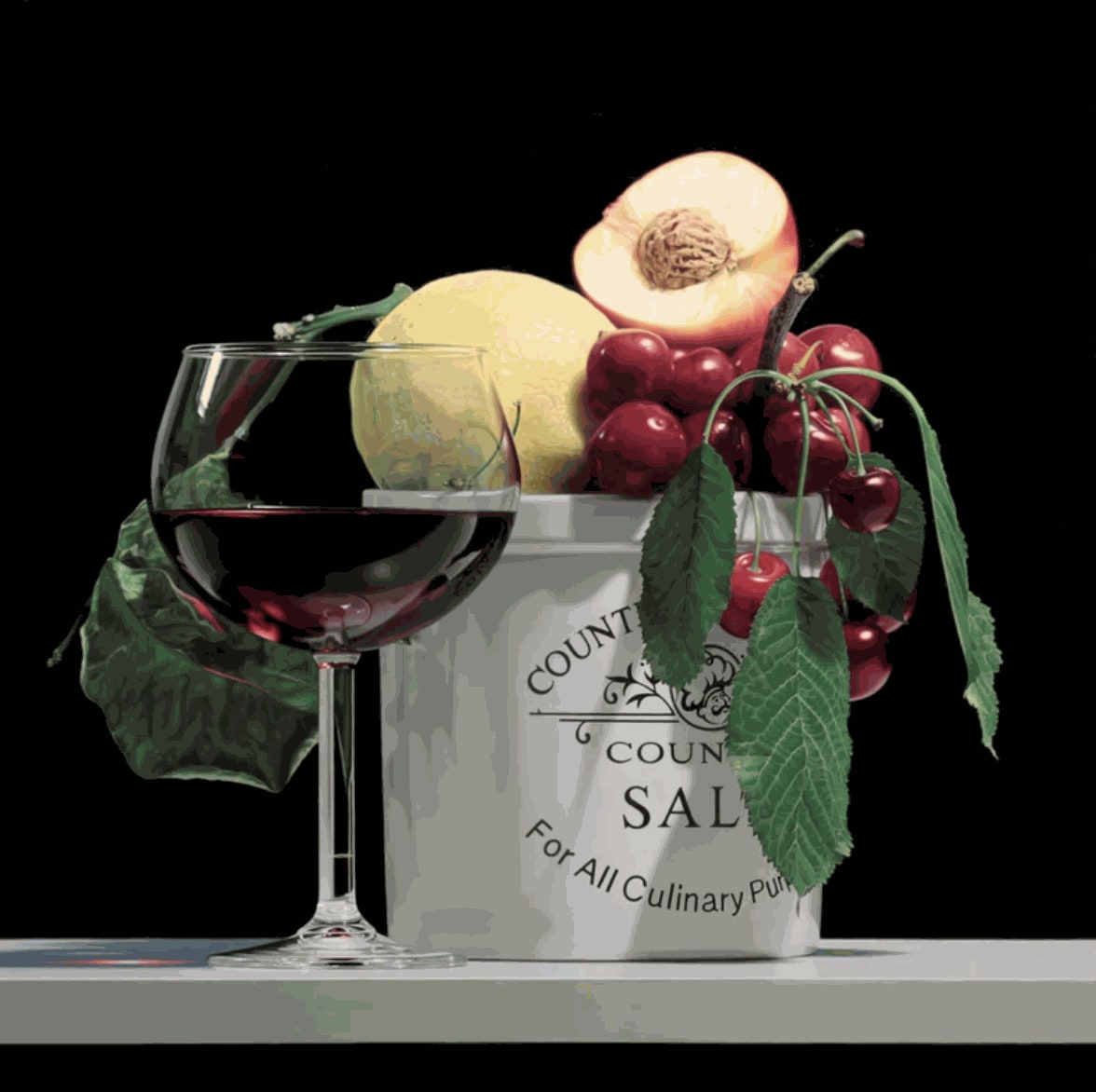 'The company of Bacchus' Oil on canvas, 60 x 60cm'
"If you look at the painting, you can immediately consider a classic still life with a fruit composition, but if you look carefully, you can see that the fruits are placed inside a container for salt. When I spoke of analogy and difference between reality and artistic representation, I also meant this, the objects represented are real, but the composition is not so truthful, because for us a salt cellar is destined to contain salt and not fruit. Yet no one has ever challenged this thing. This, for me, means that my intent, to change the point of view of what is represented, has succeeded. Do not look at the individual objects that make up the picture, but look at the harmony of the painting and the whole composition becomes a single subject. We are inclined to grant to the artistic representation what might appear incongruent in reality."
On who has influenced his work..
Bigioni says that every artist he appreciates influences his work. A few artists however, stand out for him.
For instance, he says however that without a doubt one of the most fundamental painters for his formation was Caravaggio. Bigioni was especially struck by the paintings of his most tormented period, after his flight from Rome. The chiaroscuro so "plastic" and the masterly use of the shadow and the light that he puts in opposition is like the dichotomy of good and bad. Carvaggio made him appreciate the darkness, a theme which is prevalent in a lot of Bigioni's uses as a setting in most of my paintings.
Another artist who certainly influenced him is Edward Hopper, another master of light. But, while the light of Caravaggio is a divine light, cutting, which "sculpts" the figures of his paintings, to literally tear them from the darkness, in Hopper is a light more than ever earthly, indeed, in his nocturnal paintings, even artificial but that creates those typical atmospheres that tell stories and to which cinematography was very inspired.
Finally, Bigioni states
'if we consider hyperrealism as a rib of Pop Art, it is inevitable to think of the influences deriving from the typical themes of that artistic context (for example, the Campbell jars by Andy Warhol or, again, the colors and comics of Roy Lichtenstein etc.).'
Plus One Gallery are proud to represent Adolfo & appreciate him investing his time for our Artist In Focus series.
Related artist