'Composition in Primary Colours' Oil on panel, 55 x 198 cm
Quick Review

Born: 1974, Madrid Spain
Studied: 1998, Bachelor of Fine Arts - University of Madrid
Work: Banegas produces close-up still life depictions of items that have been altered by the presence of humans. Working mainly with oil on board or canvas, Banegas produces some of the most spectacular hyper-realistic paintings, while still giving his viewers room for personal interpretation.
Selected publications: 2008 'The Railroad in Art. Printmaking in the XIX – XXI Centuries', edited by: Spanish Railroad Foundation 2007 'Train in the Spanish Painting', edited by: Rene, Communication, Branding and Advertising Direction.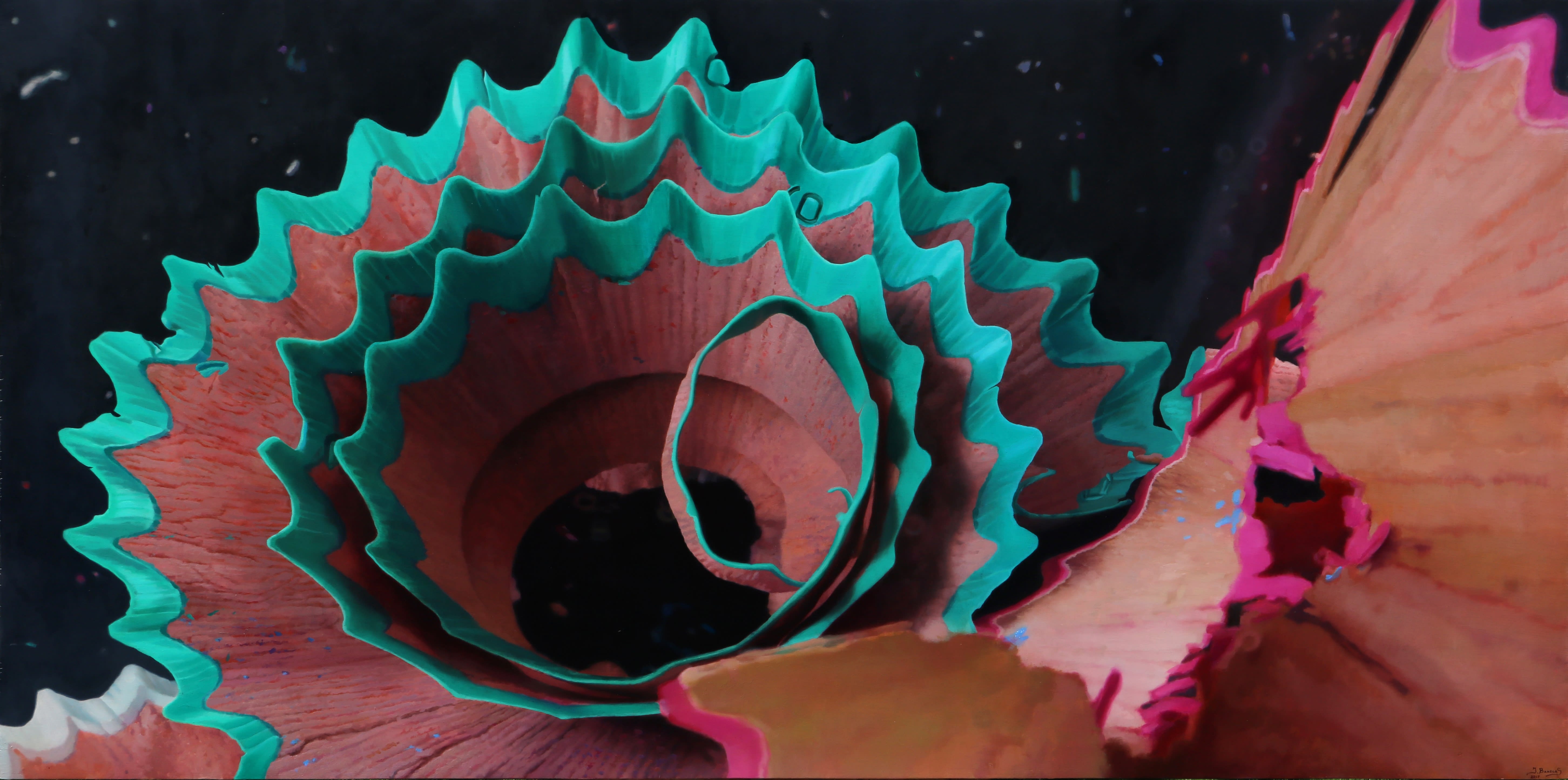 'Shavings Pink and Turquoise' Oil on board, 95 x 190 cm
Javier Banegas has been painting since he was a child, practicing almost every day and setting himself challenges to improve in each painting he created. It was clear to him from a very young age that he would study art and make it his career. Initially painting in many different styles, Banegas was inspired by a variety of genres from classicism to surrealism. It wasn't until he clearly identified with his subject that he began exhibiting his paintings, these paintings focused on a more realistic style and from here, he progressed to hyperrealism. After completing his Fine Art degree in 1998 he won the Penagos Drawing Award and in 2008 he was the winner of the Ciudad De Alcalá Painting Award. His career as a hyperrealist painter continues to go from strength to strength as does his subject matter and his ability to create the most compelling compositions.
He is known for producing close-up still life depictions of items, that have been altered by the presence of humans. He explores the interaction with these items and, whether it is the shaving from a pencil or paint pots left without lids, gives the impression that someone, somewhere is not quite finished.
The essence of human interaction which is present in all his works denotes a sense of 'passing of time'. The monumentality Banegas creates by enlarging objects, stimulates the viewer to appreciate the inner beauty and meaning of the mundane. Just as one artist would paint flowers in full bloom, Javier Banegas paints objects in a period of transition. The difference being that the subjects of his paintings are inanimate, therefore they are not suspended in life but instead are captured after action.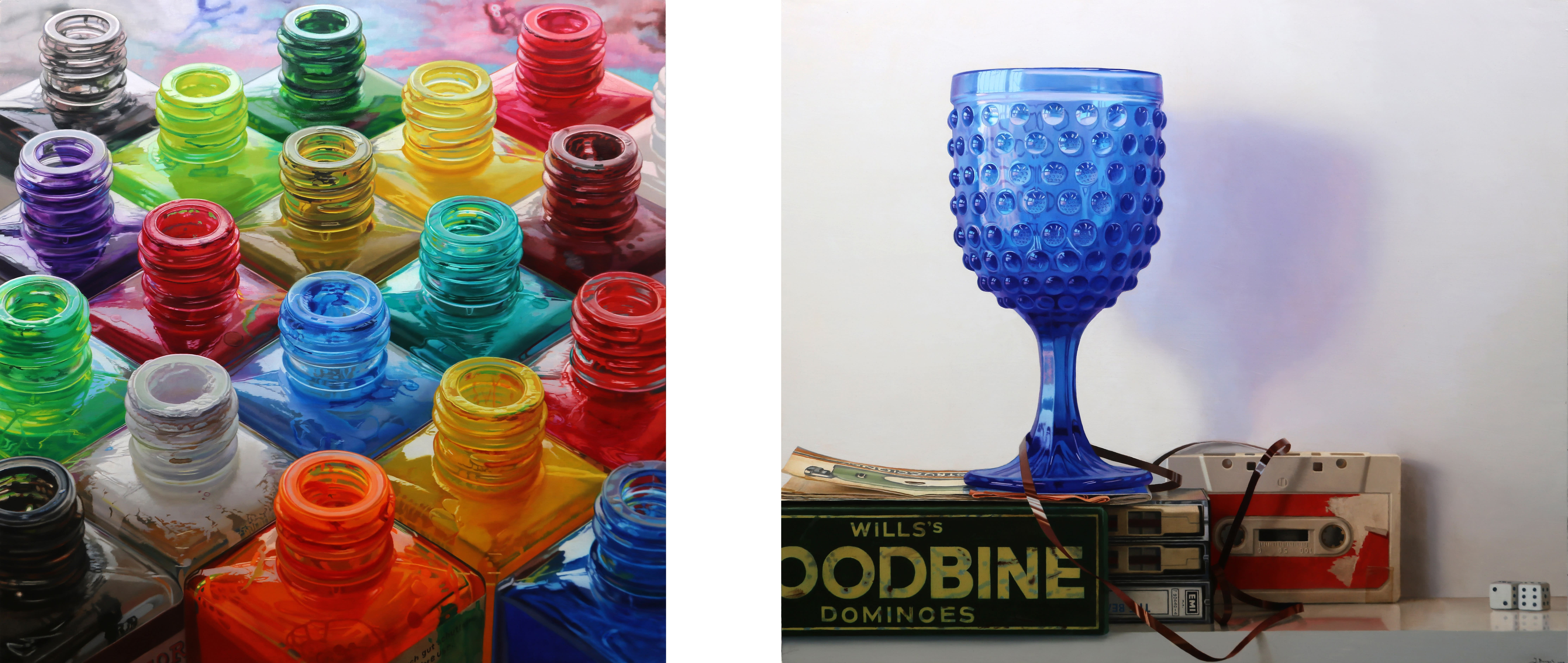 From left: 'Eighteen Colours' Oil on board, 110 x 100 cm | 'Eight' Oil on board, 80 x 94 cm
In spite of being a hyperrealist artist, Javier Banegas suggests much more than he relates. He evokes more than he specifies. He tells more about what he hides than about what he shows. As a result, a 'human dehumanization' takes place in his work. It is difficult to find people represented in his paintings, but despite this fact, his repeated main characters are the passing of time and the human mark.
Hyperrealist painting is sometimes accused of being excessively explicit. However, in this sense, Javier's work turns out more suggestive than narrative. If saying much with a few words is a good communicator's virtue, the evoking ability of a work speaks very well about itself and better about the artist it was created by.
'Watercolour Box' Oil on panel, 53.5 x 140 cm
Banegas continues to work on a number of different series at a time, the 'Shavings' series being one of the most popular, the colours in these paintings are tributes to the materials he has been using throughout his life. They also refer to things that are used by human hands, the shavings themselves are also a tribute to Banegas' father´s profession, and the things he learnt from watching him work. He paints the tools he uses to create his work as well as the residue left from the process, revealing the human activity which has been going on behind the scenes.
Particularly in the 'Shavings' series, Banegas plays around with perspective, the extremely close-up position allows the viewer to almost only see the shape and the colour, there is no reference to the space the pencil shavings occupy, resulting in a hyper-realistic painting seeming like an abstract work of art.
"There are so many visions of reality as people interpret stimuli in so many ways, and this, in the case of painting, produces a multitude of different results, all equally valid. There is no one reality, only our interpretation of it."
- Javier Banegas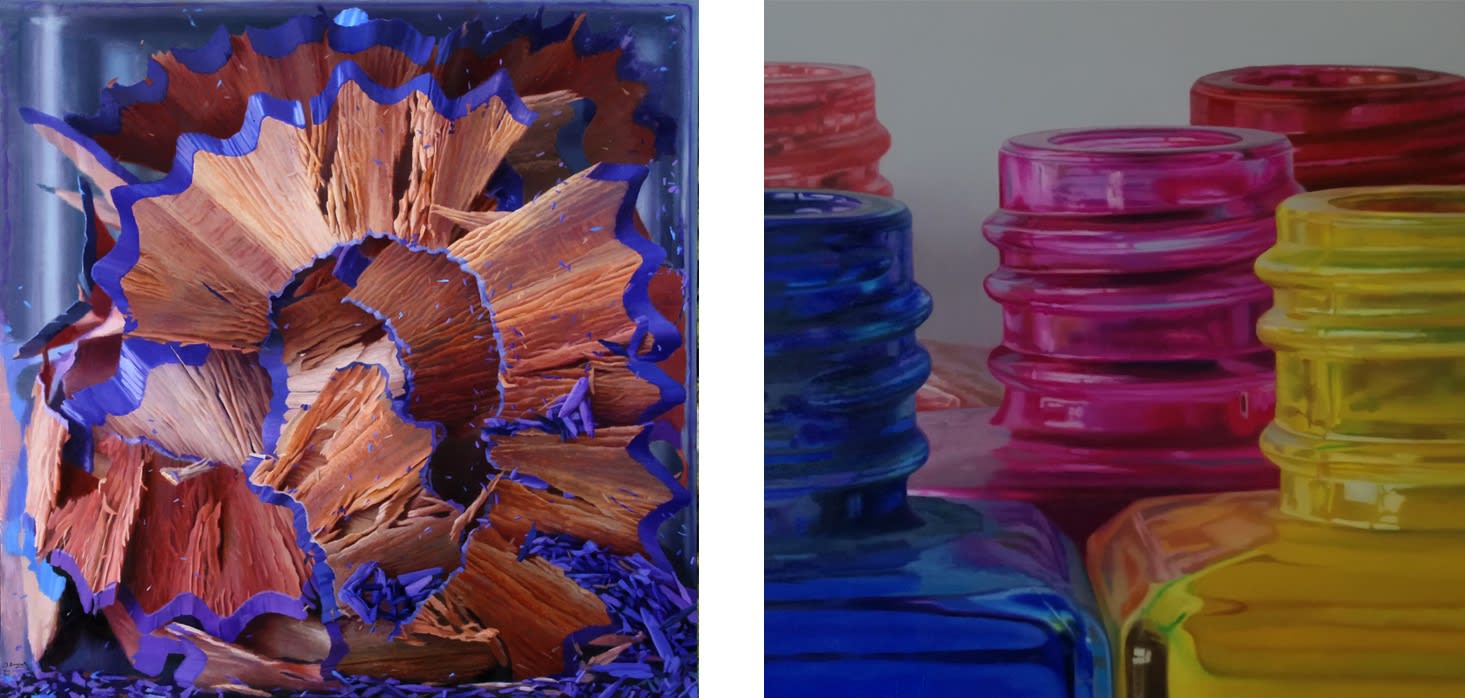 'Shavings V' Oil on board, 80 x 80 cm and 'Colour Fragment' Oil on board, 50 x 50 cm
Related artist