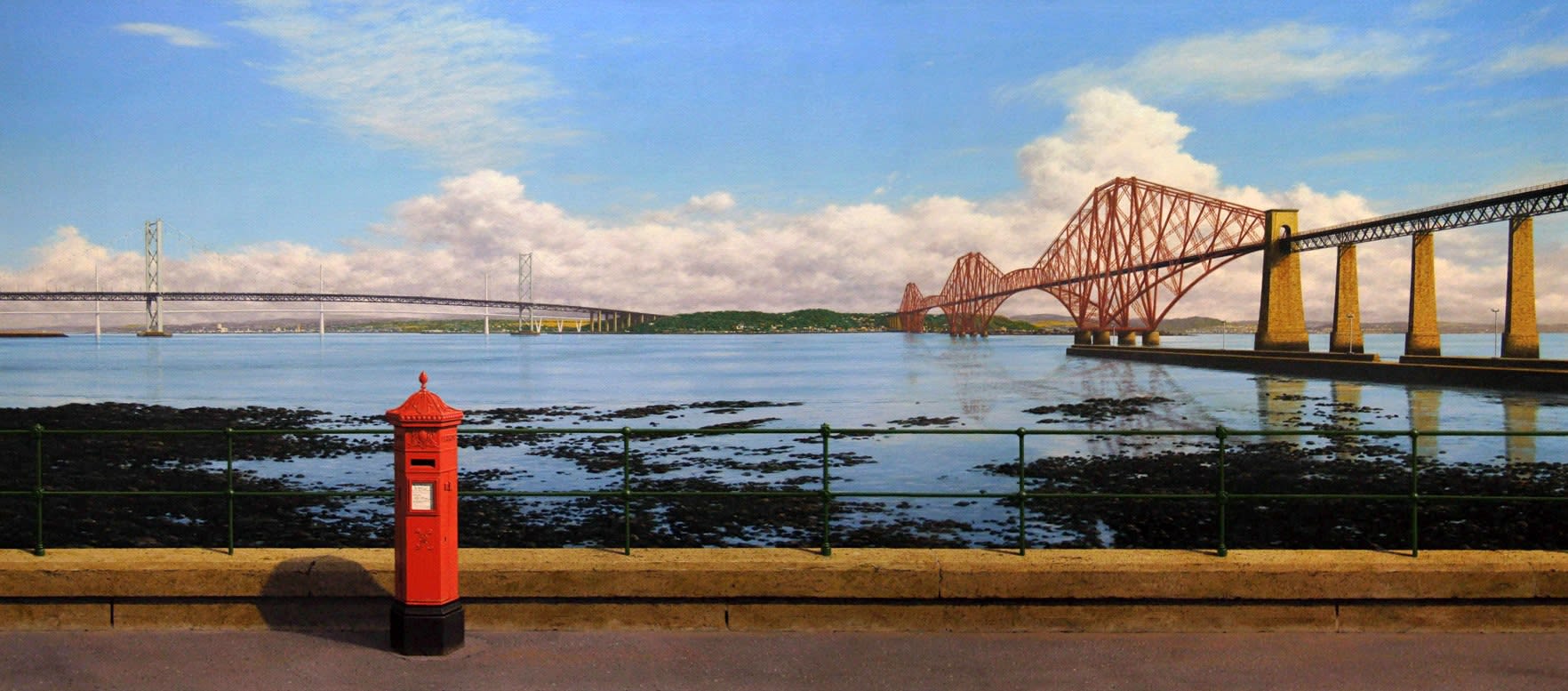 'Forth Bridges' Acrylic on canvas, 61 x 137 cm
In talking of his work Whitehead likes the terms 'magic-realism' or 'hyperrealism', and his paintings' combination of empathy, strong design and skilful detail give them an almost surreal atmosphere that is instantly memorable. Whitehead's subject matter is now principally involved with landscape and often features aspects of the moors, wolds and coast of North Yorkshire, where he resides. His style has echoes of Neo-Classical and Romantic painting of the 19th century as well as the influence of 20th century British and American Realists.
Quick Review
BORN: 1960, Conventry, UK.
LIVES: North Yorkshire, UK.
STUDIED: MA, Visual Art, University of Wales Aberystwyth.
WORK: He has twice won the Wales Open and has also been a prize-winner at the Manchester Academy and Hunting Art Prize exhibitions. His paintings are held in the collections of the Contemporary Art Society of Wales, Accenture, Prudential, Skye Pharma and the Bank of Scotland.
'Ganton Wold Sunset (Twilight)' Acrylic on canvas, 51 x 51 cm
Whitehead's process typically involves a thorough exploration of the landscape subject, making photographs and drawings over several visits at different times of day and under different weather conditions. A composition is then generated, which may be a composite or rearrangement of the elements of the subject. Sometimes watercolour studies are made before the painting is begun on canvas. The final painting starts with a drawing and sketchy underpainting that is then reworked and tightened over a period of weeks or months.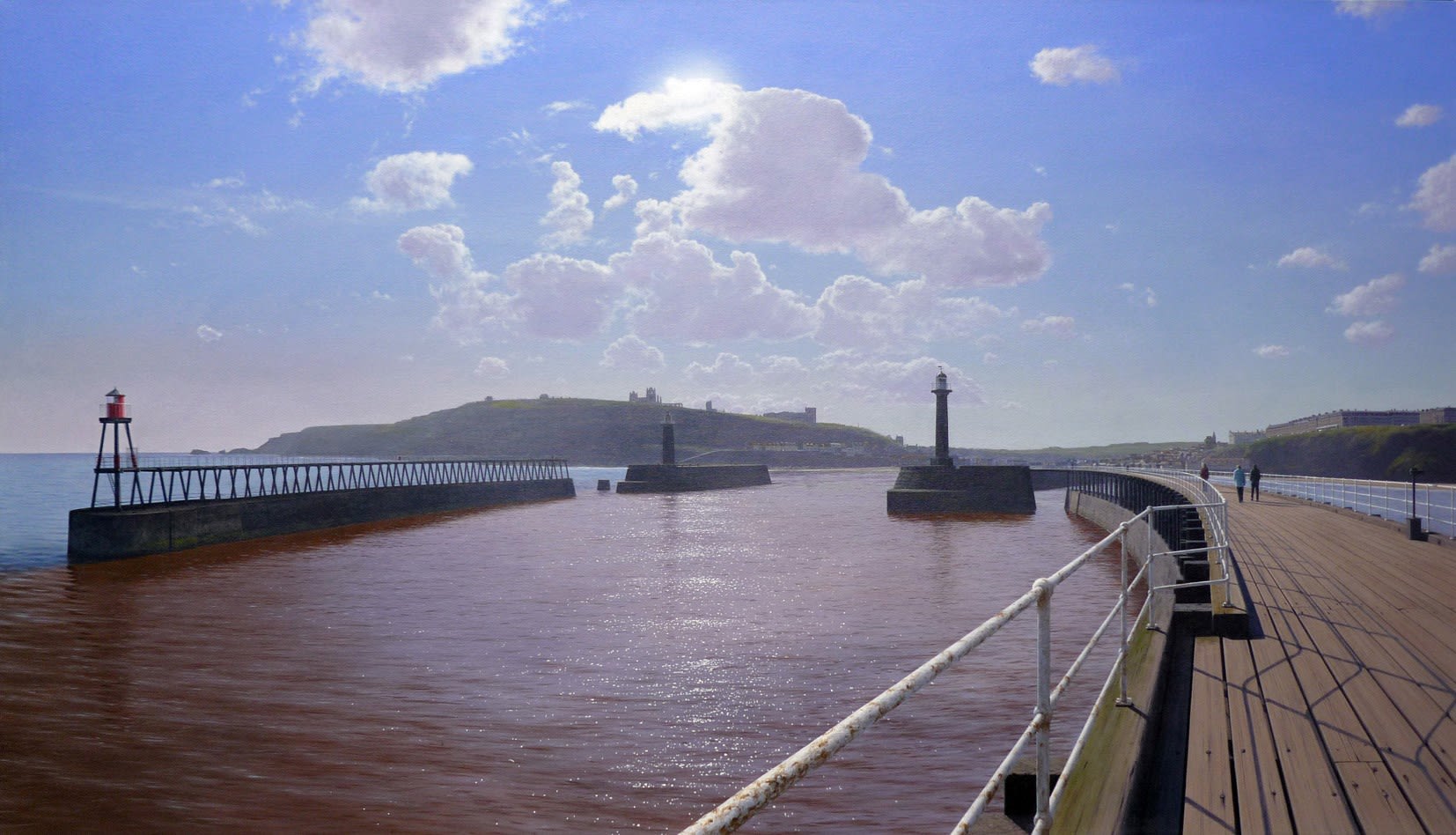 'View of Whitby' Acrylic on canvas, 81 x 140 cm
'Wold Midwinter' Acrylic on canvas, 61 x 137 cm
Whitehead became interested in art from about five or six years old. He was fortunate to be encouraged at home and at school and gradually developed a facility for drawing and painting realistically. He didn't become aware of American Photorealism until his teens, by which stage he had already encountered a lot of other 'Realist' influences: Friedrich, Holman Hunt, Degas, Eakins, Wyeth, Hopper, Hillier - to name just a few. His earlier paintings tended towards urban landscape and interiors, usually with figures and an implied, sometimes mysterious, narrative. He found natural landscape harder to engage with. Now Whitehead feels at home in the landscape of his locality, and in his favourite places that he likes to keep visiting. He describes painting them as a kind of immersion and an attempt at possession: trying to instil or capture a sense of magic. He tries not to have projects or a particular sense of direction as he believes "serendipity is more enjoyable" but sometimes these are thrust upon him, such as commissioned pieces which he does enjoy, or collaborating in themed exhibitions. Alongside the 'hyperreal' paintings Whitehead sometimes makes more painterly and abstract studies which are for his own interest and rarely get exhibited.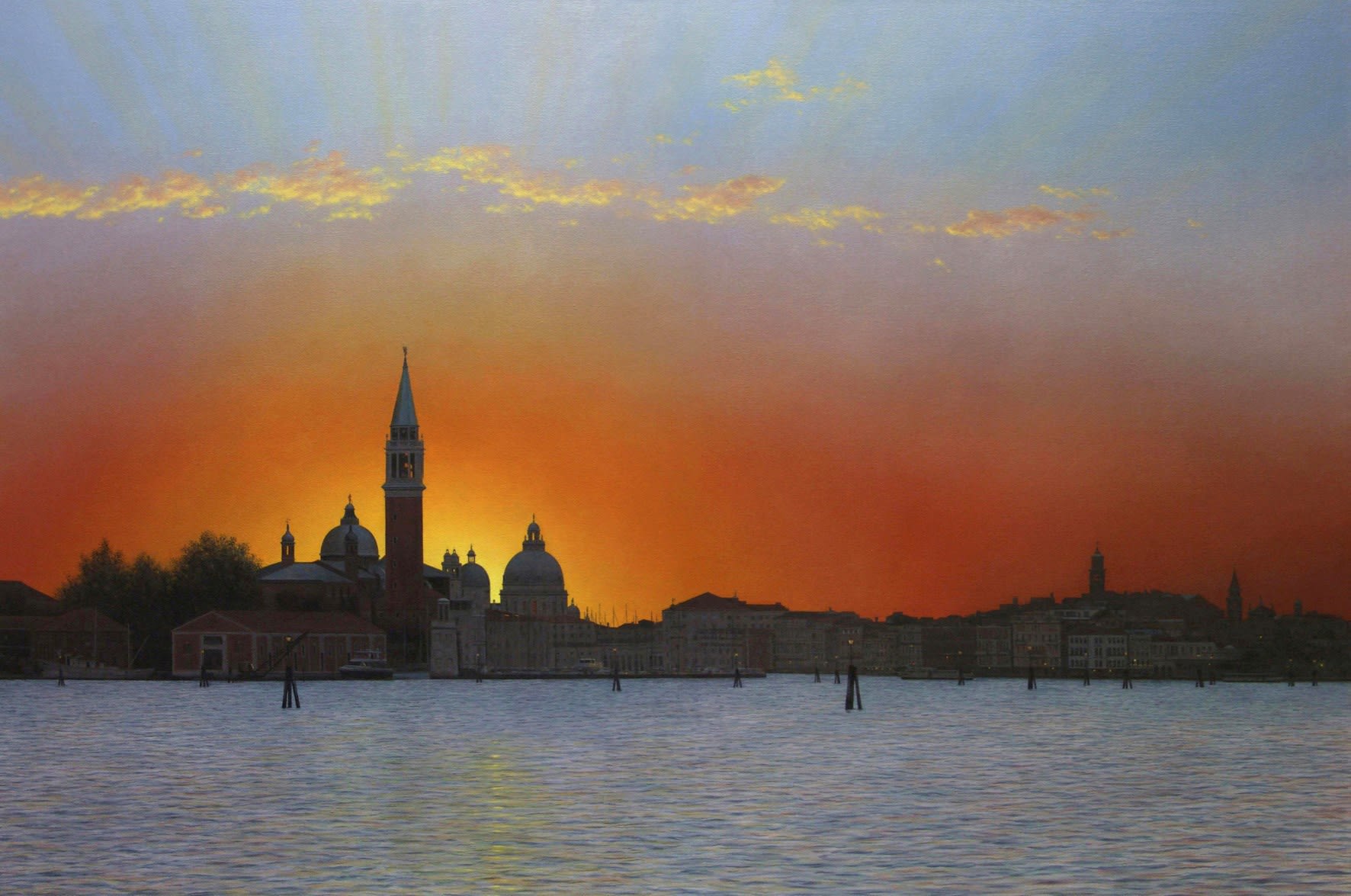 'San Giorgio Twilight' Acrylic on canvas, 81 x 122 cm

Related artist