Quick Review
Born: 1964,Falmouth North Yorkshire
Studied: BA in Fine Art at Falmouth School of Art
Work: Finnigans work is rooted in the idea of traditional realist/representational painting. His approach is to try and find vignettes of the world in which we live and try to portray what he has seen in a photorealist style.He is fascinated by photography and his work reflects that, often searching images which may have a slightly reflective or melancholic feel
Publications: 2009 "Exactitude - Hyperrealism Today"
2008- "American Art Collector Magazine"
2008 – "Scarborough Realists Now" (Orage Press and Scarborough Art Gallery)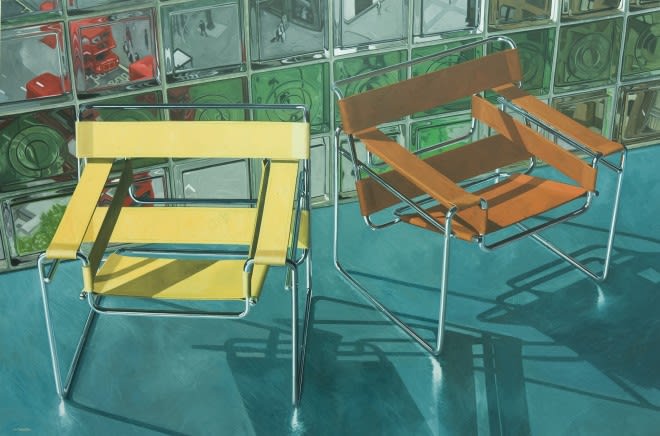 "On Location" - Oil on linen, 105 x 160cm
David Finnigan is a British hyperrealist artist who was born in Falmouth, North Yorkshire in 1964 and now lives and works in Scarborough. He studied Fine Art at Falmouth School of Art, where he graduated with a BA (Hons) degree in 1988.

David's aim is to develop a working practice which attempts to present a style of realism that is both a progressive and experimental development of that genre. His starting point is usually a set of quick sketches or studies, which roughly represent his imagined scene.

Following the construction of a complex 'virtual' 3D scene using computer software, he can effectively move through the scene and choose a vantage point which best suits his idea indicated in the original studies. A 'render' of that 'view' is then generated which he treats in the same way a photorealist uses a photograph - as if it were a snapshot of a real place. He can then use traditional techniques, methods and materials to create an oil painting of something which looks as if it were real, but never actually existed.
"Transition II" - Oil on linen, 86.5 x 127cm
The scenes usually start life as several small pencil sketches. These pencil studies form the basis of my work on the computer. When fully rendered my visualization becomes a response to the standard photograph.

What is very empowering about this approach is that I can have total control over every aspect of what appears in my scene. Once the development of the 3D image is complete, I then begin the process of drawing out on the canvas by hand my rendered scene, before continuing developing the oil painting using traditional methods and materials.

What emerges is a realist painting of what is essentially a non-real scene. More importantly, using this approach allows me to move my interpretation of realist painting away from some of the limitations of photography and to progress to where I am not being tied to a fixed eye level view of the subject matter.
"Grand Tour" - Oil on linen, 105 x 170cm
Related artist