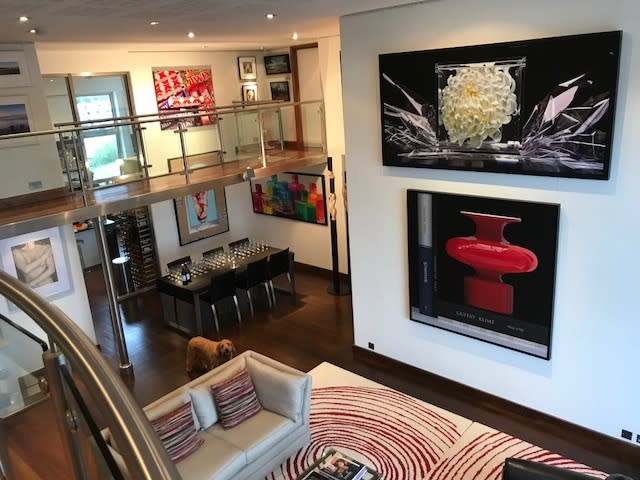 Hyperrealism.net: How do you explain that after all these years, and in spite of the profusion of images conveyed by the media, hyperrealism always has the same visual force, the same impact?
​
Maggie Bollaeret: Despite the abundance of digital imagery conveyed by the media Hyperrealism maintains a great visual impact for a multitude of reasons. Hyperrealist artworks have a depth and a presence that cannot be replicated by the camera, the artworks have a soul. When you are standing in front of a hyperrealist painting you are captivated by the strength of the imagery and the execution of the work.


Have you, as a dealer, always presented hyperrealist artists? and from when?

Yes, Plus One Gallery has always represented Hyperrealism for almost 20 years now. For me, it was the right choice as I have always liked realism and the most contemporary form of realism was Hyperrealism and it still is.
​
Do you envisage a follow-up to the recent exhibitions you have organized in Museums (Andorra or Brazil)?

Absolutely, the recent museum shows we have curated in Andorra and Brazil have been incredibly successful with almost half a million people visiting '50 Years of Realism – Photorealism to Virtual Reality' to date. This has proven to me and other museums that Hyperrealism is a valid art movement to be reckoned with.
​
You seem to address to general public more than critics and historians. Does it annoy you to see that in contemporary art magazines, critics continue to be unaware of hyperrealist painters?
For some years now the art critics have noticed Hyperrealism and some are starting to write about it. The publication of my book 'Exactitude, Hyperrealist Art Today' in 2009 helped to cement the validity of hyperrealism as a movement and it continues to become more accepted through large museum shows and its exposure to the public. The art critics and historians cannot ignore these exhibitions and the positive reaction from the public.

One day, do you think it would be possible for you to open a gallery outside London? Does it seems relevant and economically viable?

If we find the right location and it is economically viable we would like to open another Plus One Gallery somewhere else.
In your opinion is hyperrealism still a movement in action? Are the emerging artists ready to revive the movement?

By all means, the arts in all its manifestations such as music, dance, theatre and artworks are in constant evolution and Hyperrealism is no exception. Art is not static; it evolves and is susceptible to any of the current issues in the world today. Hyperrealism is vibrant, dynamic and well immersed in contemporary life.
I do not believe that only young artists can keep the movement revitalized as I said before, the movement and the artists working within it keep hyperrealism alive and exciting.
You have presented the works of international painters of various origin.
Is this deliberate?

It is not deliberate, I choose artists for the merit of their work and not for where they come from. Where they come from is immaterial through my process of choosing who I represent. However, it is nice to see that great Hyperrealist artists come from all over the world!
The new young artists are finding new imagery, techniques and digital process and are now causing great renewed interest. What is your point of view bout the influence of technology on hyperreal movement.
I believe that any new techniques and digital input has to be embraced, as that is part of the evolution that I mentioned before. The evolution in all its manifestations is here to stay, we should embrace it and not reject it. As long as paintings are still being painted and are not so called "mixed media" in which artists print a photograph on canvas and paint over it, that is cheating and it only damages the good name of hard working, true Hyperrealist artists.
​
Do you think that hyperrealists deserve to be considered as craftsmen?
No, I do not believe that Hyperrealist artists should be considered as craftsmen. Hyperrealism is far more than a craft, the whole process of creating hyperrealist artworks is very thought through and creative. Hyperrealist artists are the same as any other artist the only difference being the rendition of their artworks is very precise.
The hyperrealist painter work very slowly, 5/10 works by year.
For this reason, is hyperrealism not condemned to remain marginal in numericc terms?
On the contrary, does it lead to rarity of hyperreal paintings which could lead to an appreciation in value?
It is a reality that hyperrealist painters paint very few paintings per year so they do remain marginal in numeric terms but this does not lead to a rarity of hyperrealist paintings as they are being very well promoted and exposed to the public through galleries like mine, museums, institutions, literacy, the internet and more specifically, social media.
In marketing terms what do you estimate the potential rise in value of the of the hyperrealist artists to be?
I do not have a crystal ball to be able to answer this question but as the movement is more established within the art-world I could see from a totally logical point of view that there would be a healthy appreciation in value.
Do you think Brexit could damage your business?
No, I don't believe Brexit will damage our business. Once Brexit is finalised I believe that it will have a positive impact as VAT will no longer be applicable to goods being sold to clients in Europe therefore making buying from us cheaper.
​
What do you think of when you think of hyperrealism?(in five words)
Dynamic, bold, exciting, innovative, current.


What do you think of when you think of modern art?(in five words)
(Not much!)
Divisive, confused, subjective, intriguing, interesting.