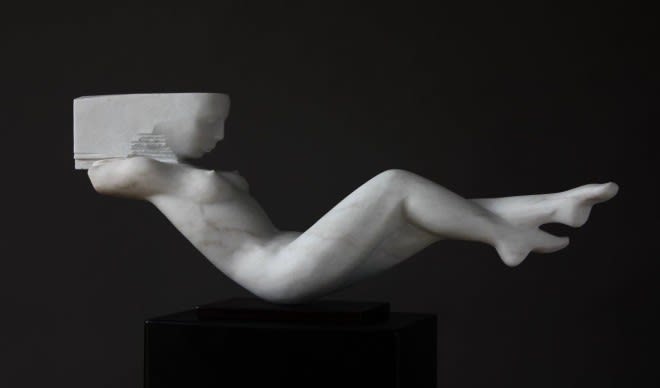 Peter Demetz
Born: 1969, Ortisei, Italy
Lives: Bolzano, Italy
Demetz's work is simple, bold and elegant. His sculptures depict single figures which are immaculate, anatomically perfect portraits that take shape from the light wood of the lime tree. Within the frame the figure often faces inwards. There is one coloured square/angle and careful lighting – colour is not necessary on these intricate woodcarvings.
The figures are ordinary people captured in this ghostly framed world. As the artist states "no eye contact is ever established with the observer, as if these figures were trapped in their own world, where they seem to be aware of being observed and where the space is facing the observer".
Performing the acrobatics of depth and flatness, Demetz's little theatres of human affairs and private worlds are masterfully illuminated reliefs that challenge the spectator's perception with their spatial unfolding. They seduce with their illusion as well as with their photographic quality of represented world.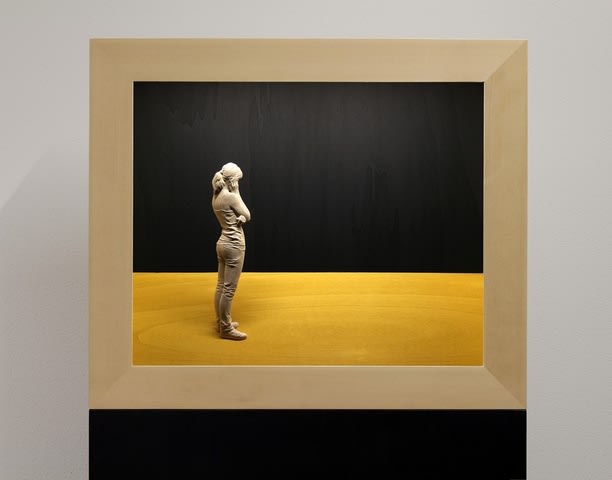 "When I Grow Up" - Limewood, acrylics & LED, 55 x 65 x 15.5 cm
Rogerio Timoteo
Born: 1967, Sintra, Portugal
Lives: Montelavar, Portugal
Timoteo choses to use marble because "it was an environment [he] was born into", and exploits its hardness, strength and nobility to create sculptures that express his fears, joy and longing: all that make him a human being. Timoteo both represents marble's journey from earth to art and its history in classical sculpture and architecture. His works reference the female figures whose strength support the entablature of Greek buildings and Greek mythology. Whilst he says he always tries to "understand the characteristics of its geological formation" as well as understanding the process and techniques that transform it into a work of art.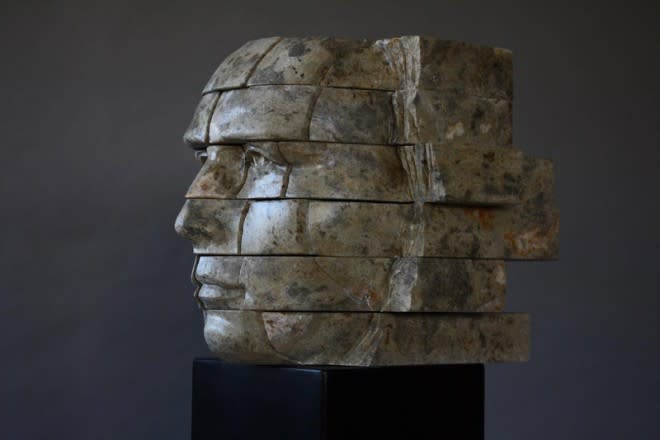 "Face" - Marble, 38 x 43 x 46 cm
Andres Castellanos
Born: 1956, Madrid, Spain
Lives: Madrid, Spain
Castellanos started his career as the official copyist at the Prado Museum in Madrid, a city he continues to live and work in today. Whilst working at the museum her gained the opportunity to learn from some of the great masters, citing Velazquez, Goya and Ruben as his main influences. As well as painting commissioned portraits, Castellanos paints landscapes (often portrait) centred around a key focal point whether that is a tree or figure. Despite this, Castellanos doesn't see himself as a thematic painter, instead taking inspiration from day to day life around him. He says of his work: "when you're painting you forget everything, it is the previous moments that differ from each other".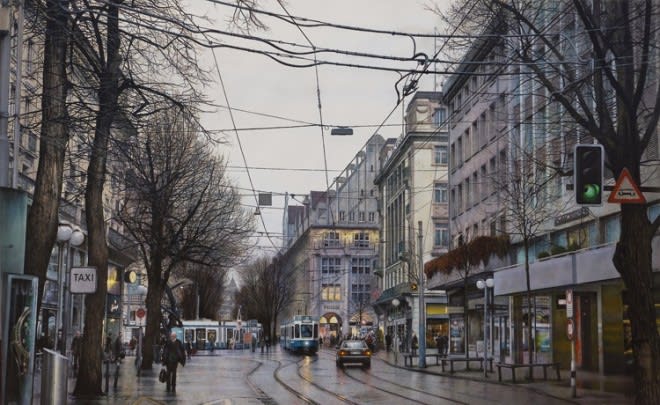 "Bahnhof Strasse" - Acrylic on canvas, 162 x 100 cm
The new space at Battersea Reach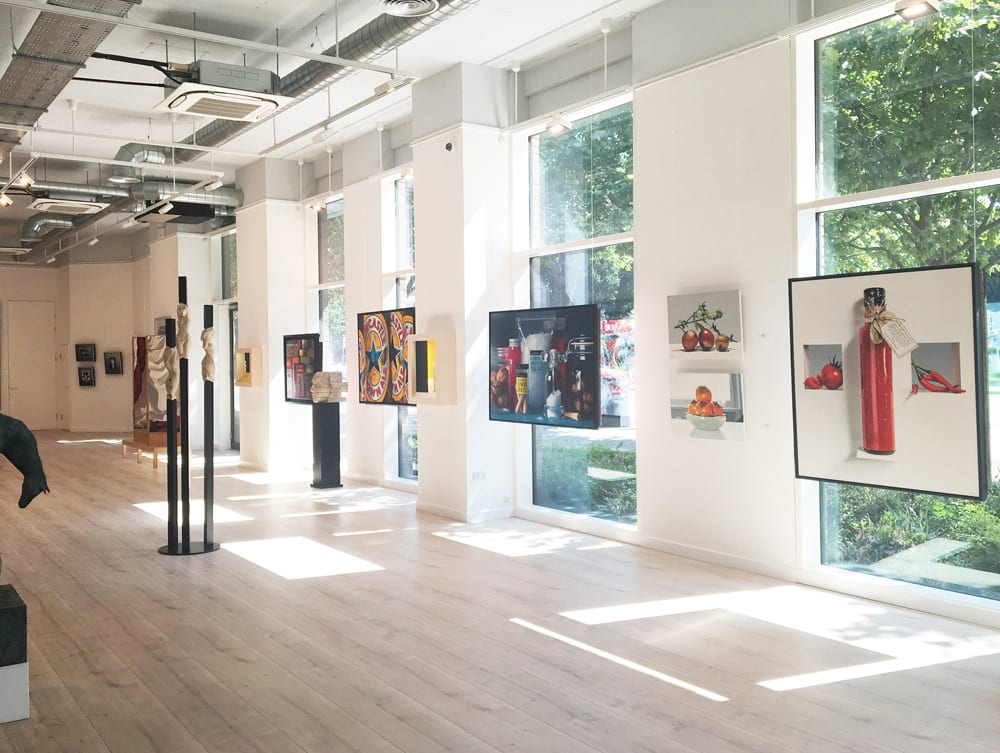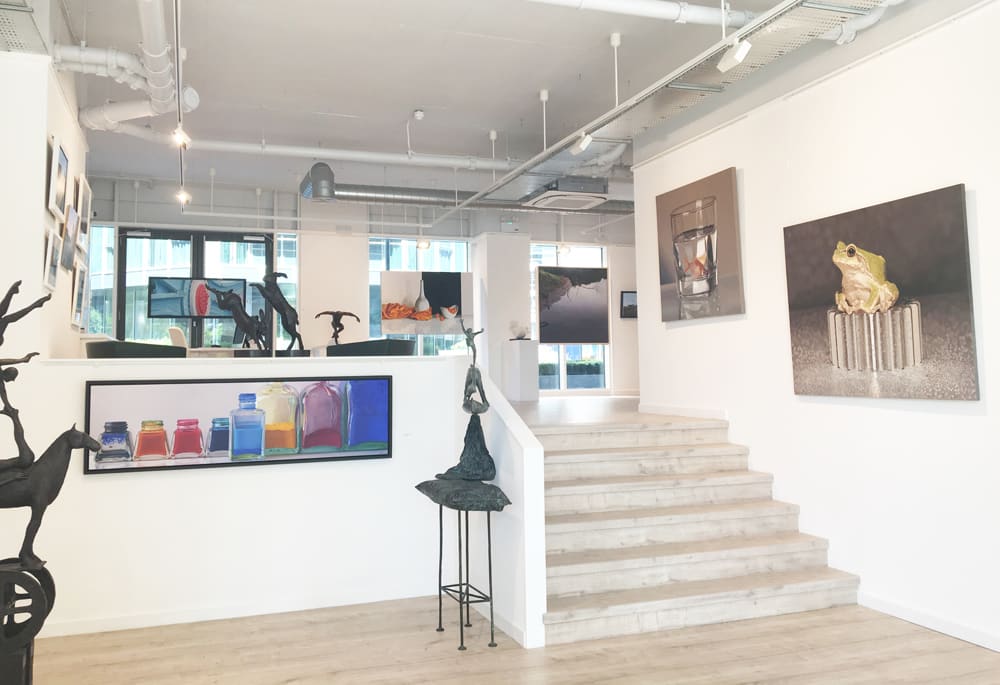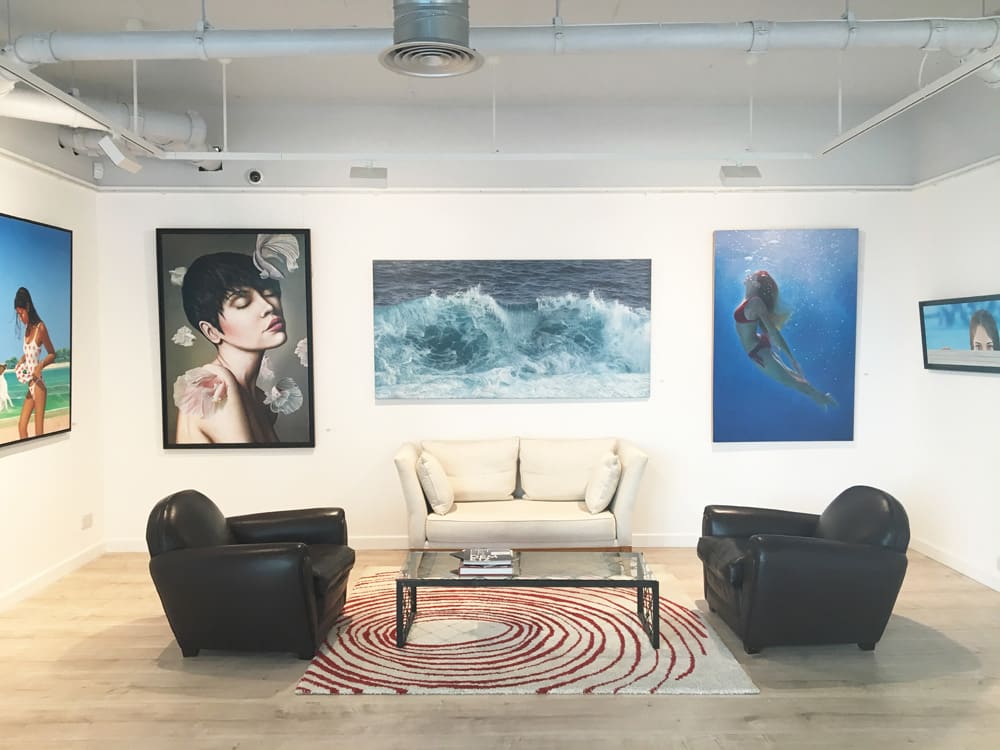 Related artists