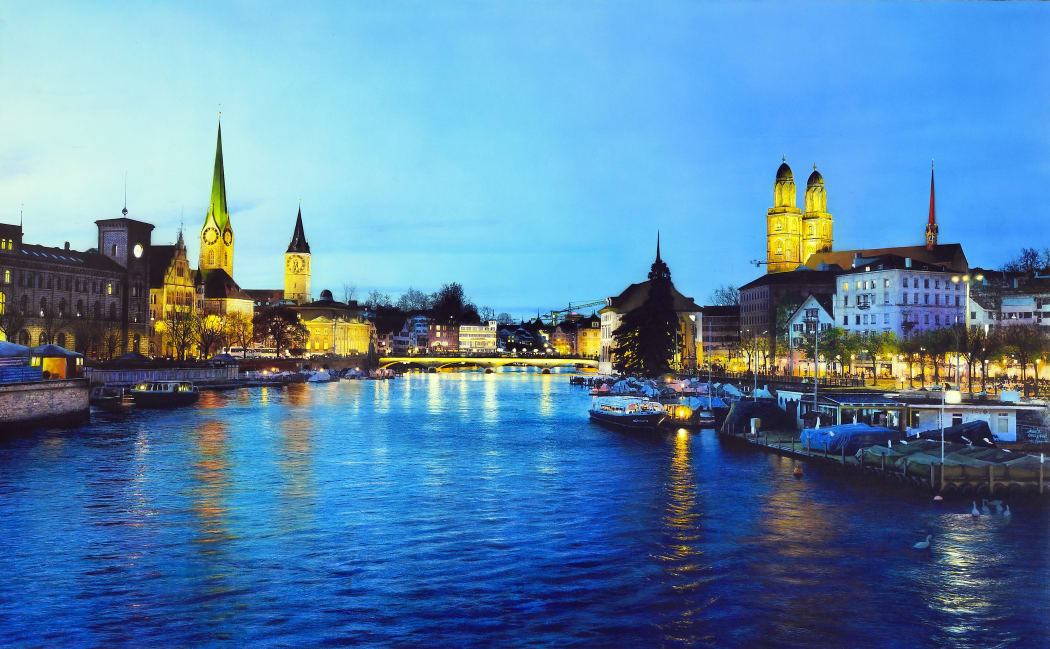 Shopping Center NY, 114 x 162 cm, Acrylic on linen canvas
Quick Overview
Born 1956, Madrid, Spain.
Lives Madrid, Spain.
Work Acrylic paintings on either board or canvas. His work centrals around brig cities including Madrid and New York, often drenched in light and are centred by a tree or figure, so the main focal point and balance of the painting is in the centre.
Why you should be interested Castellanos combines the best materials, the refined technique of the old masters along with the latest advances such as airbrushing.
-------------------------------
Castellanos started his career as the official copyist at the Prado Museum in Madrid, a city he continues to live and work in today. Whilst working at the museum he gained the opportunity to learn from some of the great masters, citing Velazquez, Goya and Ruben as his main influences. As well as painting commissioned portraits, Castellanos paints landscapes (often in portrait) centred around a key focal point whether that is a tree or figure. Despite this, Castellanos doesn't see himself as a thematic painter, instead taking inspiration from day to day life around him. He says of his work: "when you're painting you forget everything, it is the previous moments that differ from each other".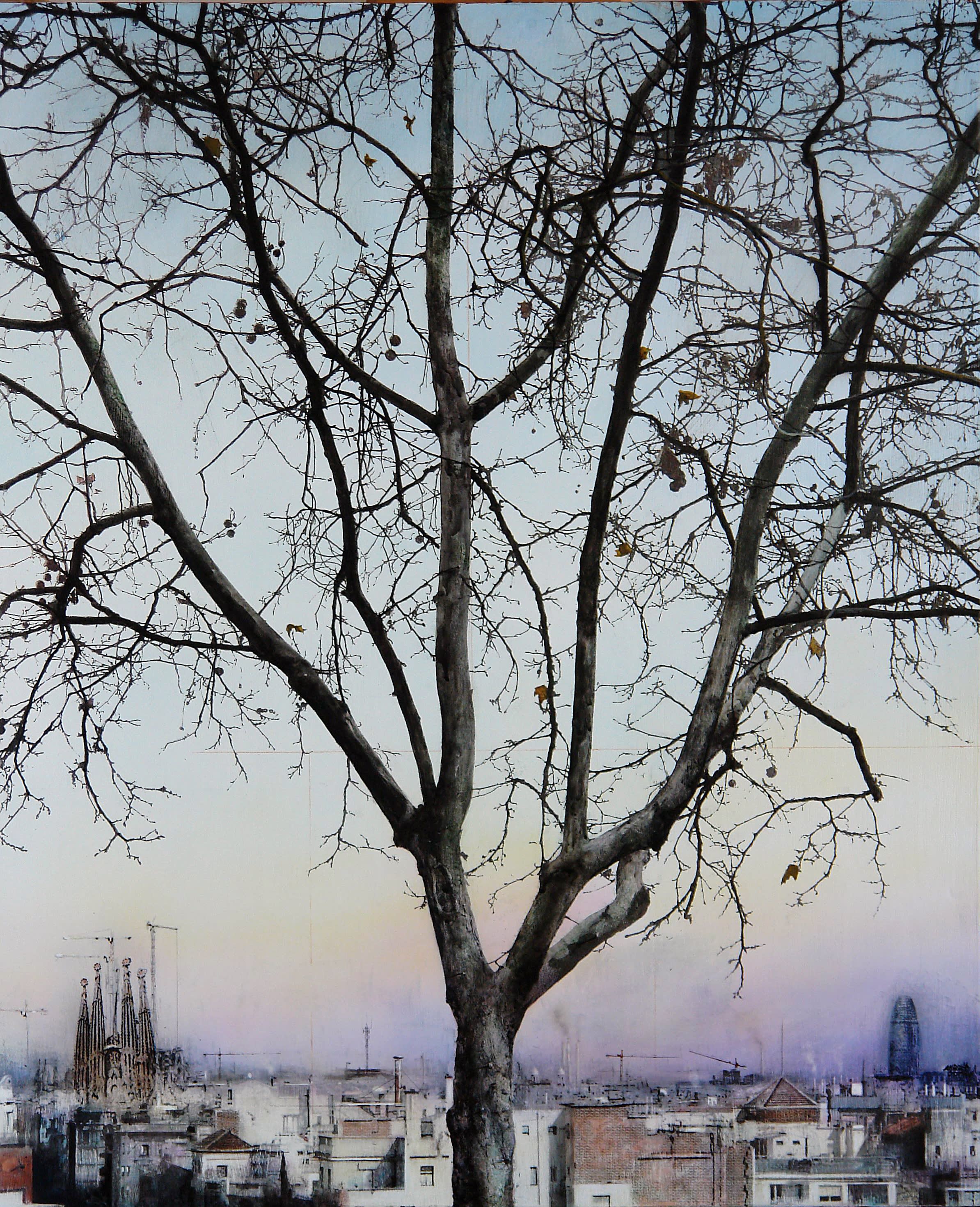 Barcelona, 73 x 60 cm, Acrylic on wood
Plus One Gallery: When did you become interested in Hyperrealism? How long have you been a hyperrealist artist?
Andres Castellanos: At first I was interested in figurative art in general. But about twenty years ago I got more and more interested in extreme reality until it became a challenge to me and made me compete with what we see with just a normal look.
POG: What brought you to Plus One Gallery?
AC: I'd love to help by adding my view of reality to the one of the painters who work with the Gallery. I wish the Gallery becomes the undisputed reference point for any discerning collector.
POG: What's integral to the work of an artist?
AC: The most important thing for an artist is working knowing that paintings are fragments of a reality composed of his personal vision and their own artistic experiences.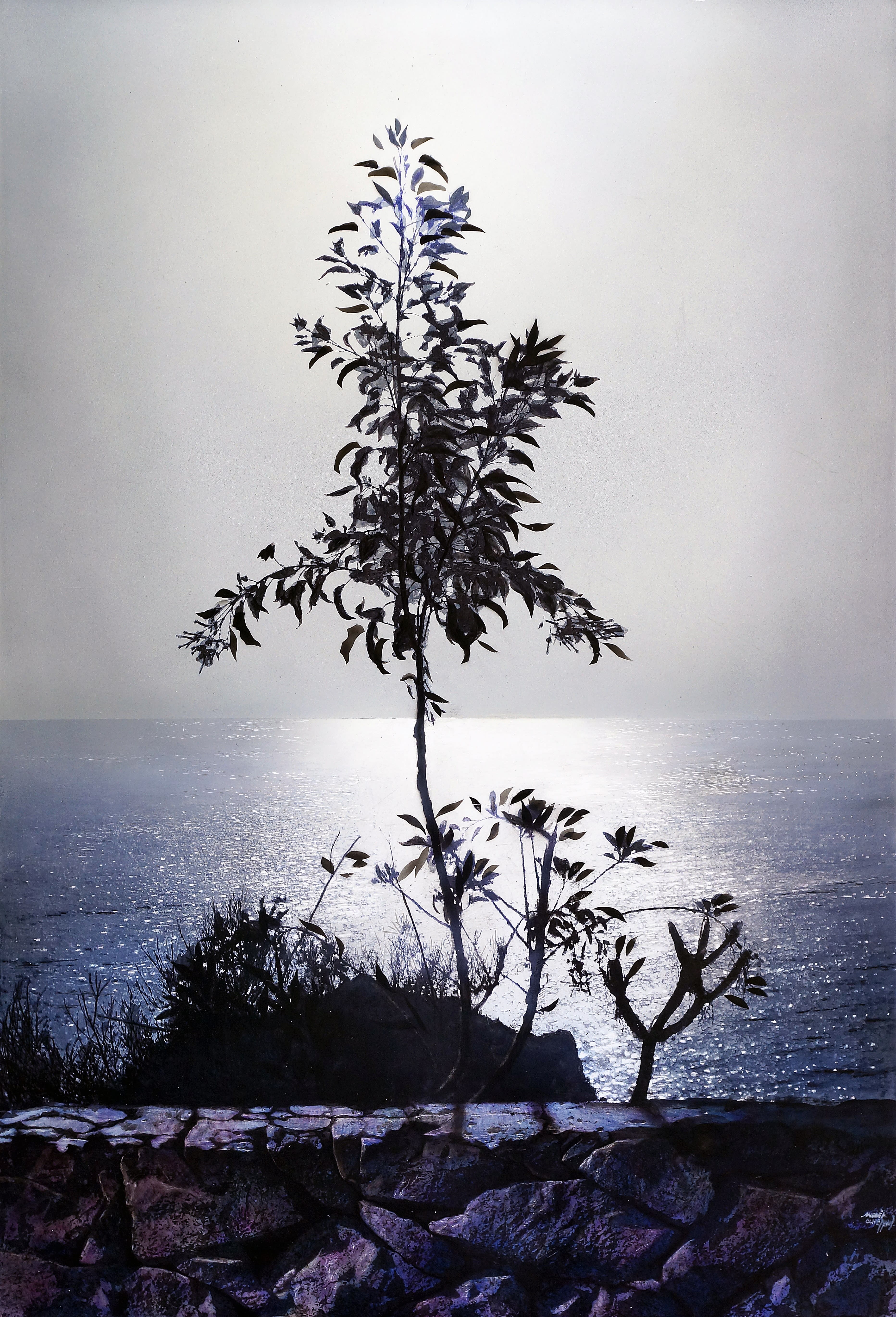 Arbol y Mar, 60 x 41 cm, Acrylic on wood
POG: You have talked about how you combine techniques of the old masters alongside new technology such as air brushing. What is your artistic process?
AC: At first, I used to paint with oil on canvas. Now I usually make a grisaille underpainting as a black and white, and then I paint over it with transparent layers of airbrush using acrylic paint finely diluted.
POG: I have read that you don't like to describe yourself as a thematic painter and instead take inspiration from your daily life. What is your main source of inspiration?
AC: My source of inspiration are the cities and the people with whom I live. I don´t like having a unique theme, I am currently interested in the theme of trees and cities.
POG: There always seems to be a central focal point in your paintings, is there any reasoning behind this pattern?
AC: My painting is like a window from which I look, that´s why in all my paintings there has to be a clear center of interest.
POG: Your paintings tend to include a major city, from your home (Madrid), the rainy streets of Zurich or from within a shopping centre in Manhattan. What is it that draws you to these places and these scenes?
AC: They are cities that I usually go pretty often and that creates images in my head that get translated into pictures. I guess now I will make a series of paintings of London.
POG: Your paintings focus on the everyday and capture scenes that most of us would overlook, this is an intriguing and thought provoking concept. Can you explain your interest in the everyday?
AC: I usually don´t choose what I'm going to paint, I only do it when at the same time of seeing reality I also see it as a painting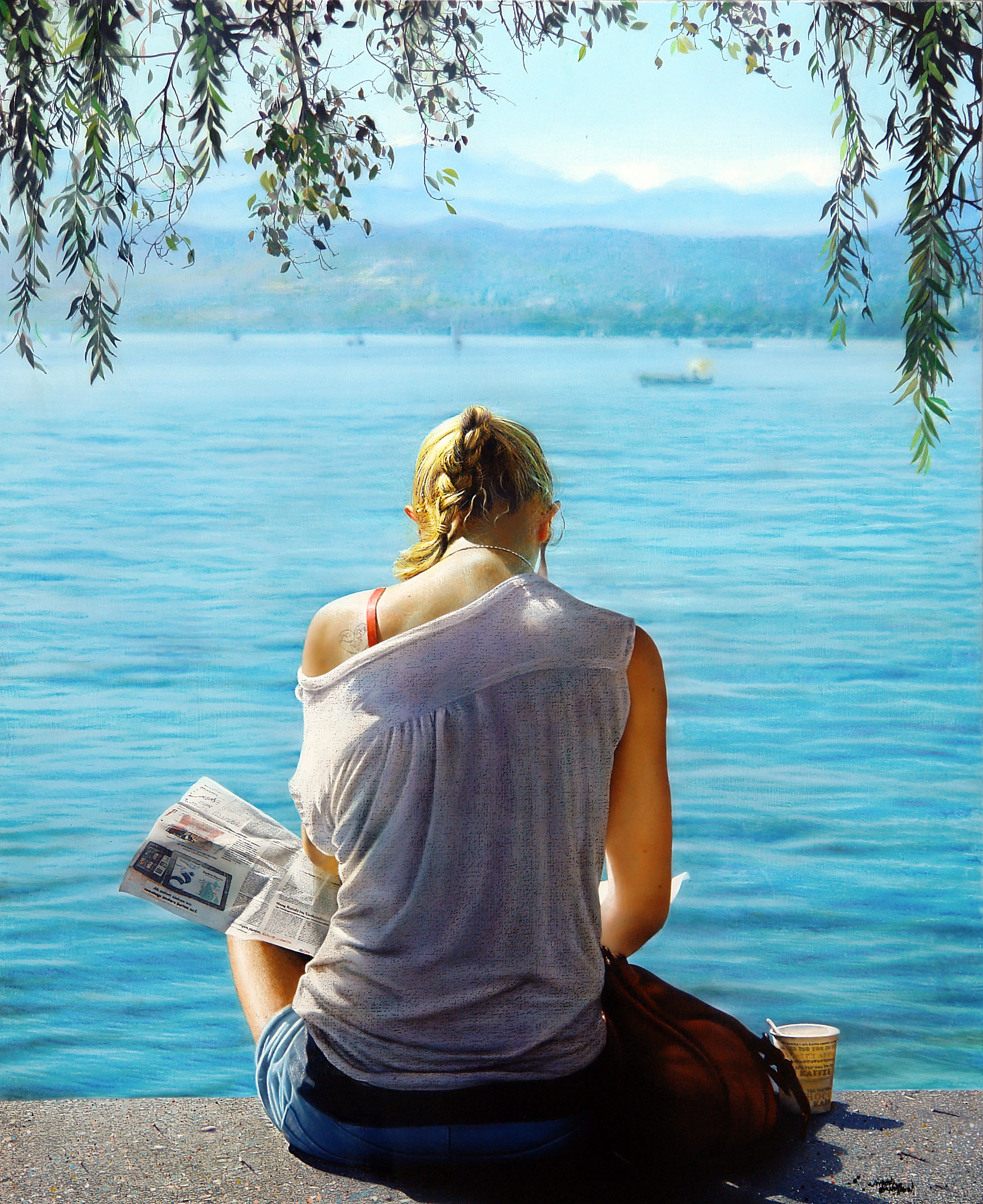 The Girl on the Lake, 73 x 60 cm, Acrylic on wood
POG: How do you think your background as a copyist at the Prado Museum in Madrid has influenced your career?
AC: It has completely influenced my career. It gave me a necessary academic training to compose and perform my paintings.
POG: Who has been your biggest influence?
AC: I have been influenced by great painters like Velazquez, El Greco, the primitive Dutch ... etc. I am now more interested in Vermeer and the painter of Leeds, John Atkinson Grimshaw. I love their nocturnal and misty landscapes in the light of the moon.
POG: What do you hope to achieve with every image you paint?
AC: I intend to give my own image of reality and teach people that where they only see an everyday image, hides a painting wort being contemplated.
POG: How do you see your painting evolving in the future?
AC: I think I'll keep the line in which I am currently working for some more time. I also want to do some portrait within the theme of my painting.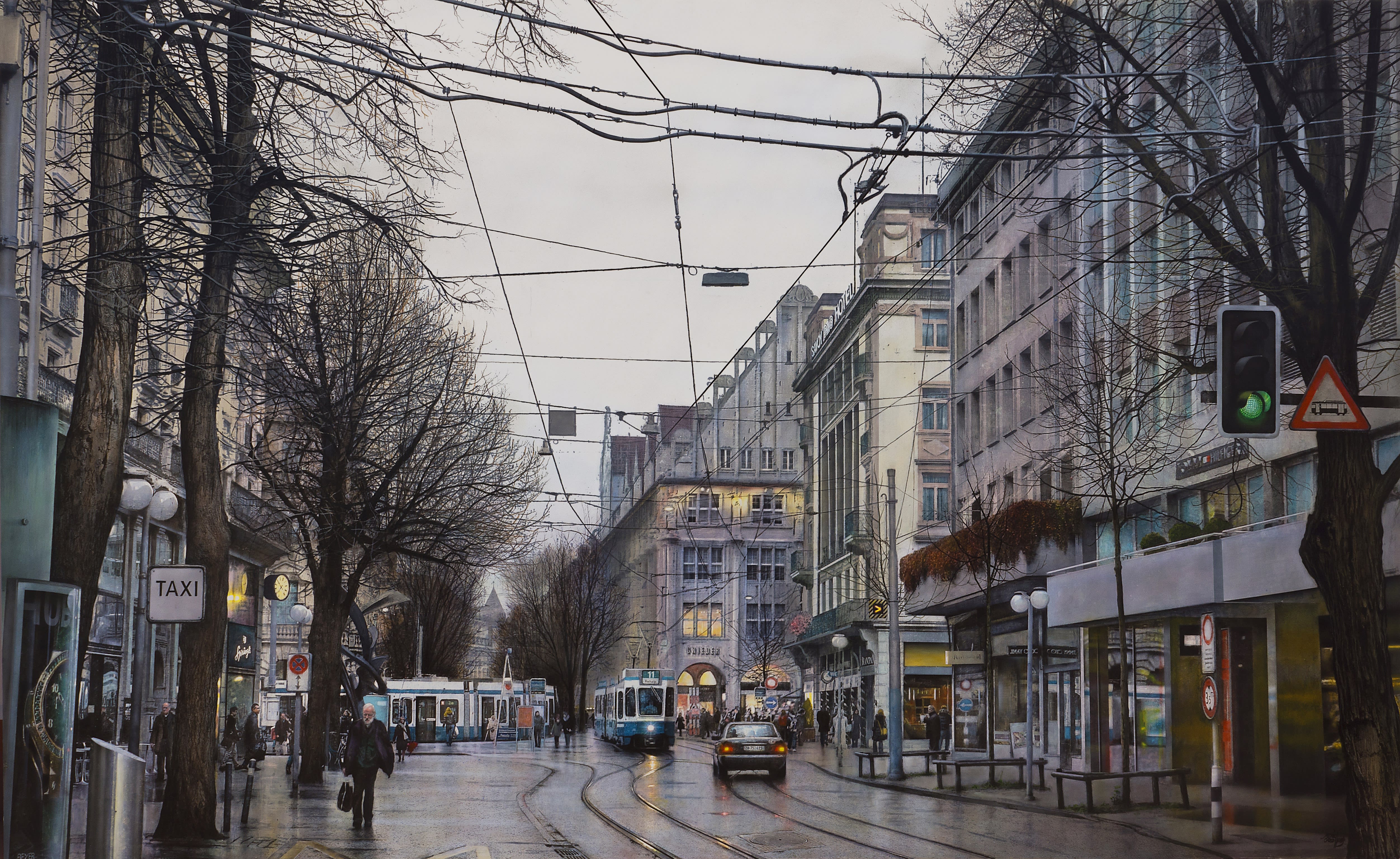 Bahnhofstrasse, 100 x 162 cm, Acrylic on wood
Related artist