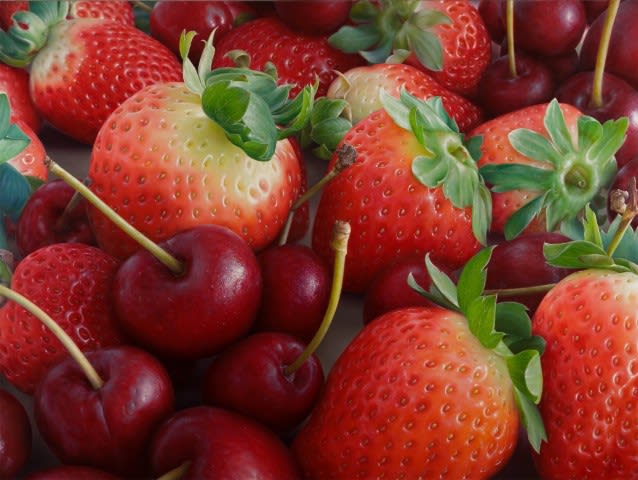 Quick Review
Born: Madrid, Spain. 1972.
Work: Castello creates hyper realistic still life paintings which arrest fleeting moments, such as the decaying of fruit. His paintings hold a significant monumentality, close ups of grapes or piles of raspberries. He seamlessly blends a classical technique of painting with a modern photographic approach of framing and documenting.
Publications: MEAM. Museo Europeo de Arte Moderno. Barcelona
Colección JAPS. México
Fundación SCHLEGEL
Colección Caja de Extremadura
Colección Caja Castilla La Mancha
Asamblea de Extremadura. Mérida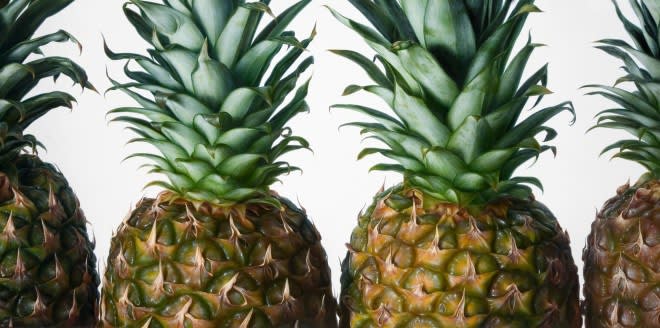 'Pineapples' - Oil on linen, 97 x 195cm
Artists often discuss the concept of time through their unique ways of comprehending and representing the world around us. Art inevitably becomes a device for transcending and freezing the moment, the ephemeral thus becomes the eternal.

Spanish artist Antonio Castello plays with the idea of time and representation through his paintings of fruits at the peak of ripeness. His creations are bold, graphic and elegant. They're also unquestionably modern, but then if they represent the present, then they can be nothing but modern. Castello depicts his subjects in a contemporary context: it is the little details, like the Waitrose label in "The Salt of Life" that gives us the clue of time and represents the contemporarily of his works.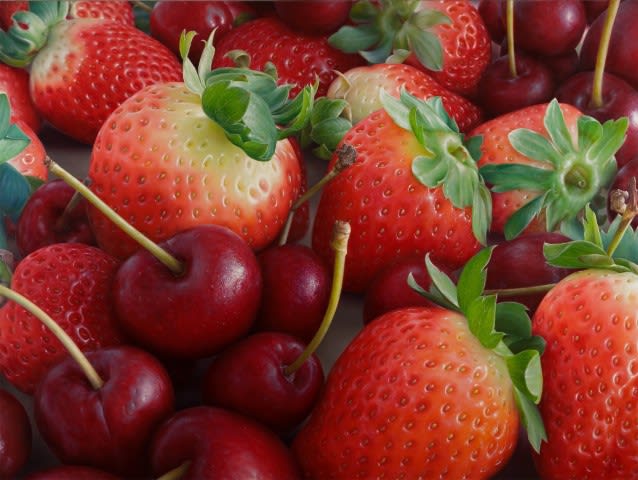 'Cherries and strawberries' - Oil on canvas, 50 x 66.9cm
As modern and contemporary as his paintings are, Antonio Castello specialises in still life and with that comes a vast and wealthy history. Still life is based in the representation of the 'here and now', the things we eat, drink and tools we use to do so. Painting in still life allows the artist more freedom for choice of composition, by enlarging his fruit to fill an entire canvas, Castello moves away from the traditions of the still life genre with fruit compositions that almost become landscapes.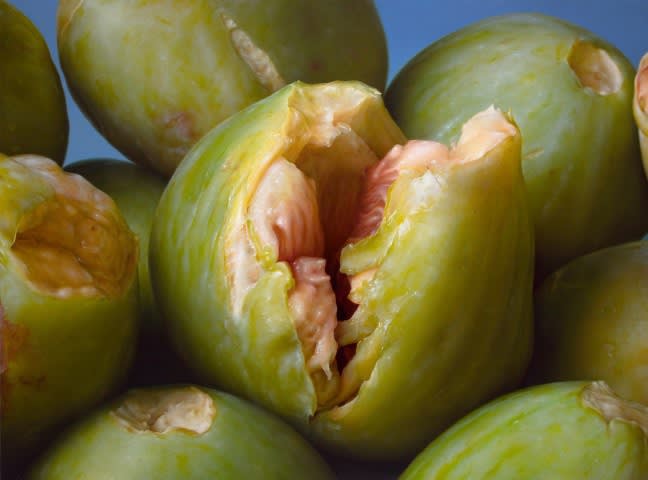 'Figs' - Oil on canvas, 127 x 170cm
The second game within Castello's work is to depict fruit at the peak of ripeness "stopped in all of its fragility". By exploring nature at its most fragile the works become transitional. The details depicted in the paintings frame won't stand the test of time and will decay and rot; we can see evidence of this in some of the grapes in "Grapes III". Castello's paintings portray the energy of something about to happen and invigorate new life into the classic still life genre.
'Grapes III' - Oil on linen, 80 x 80cm
For more information on any of these artworks contact us on 020 7730 7656 or email Rosie at rosie@plusonegallery.com.