Quick Review
Born: Merksem, Belgium, 1951.
Work: De Roy's body of work consists of paintings and drawings, which explore Scandinavian landscapes and the traces of past inhabitants. Paul De Roy has been awarded 7 awards between 1984 – 1991 and is in a number of private and public collections.
"I wander through the no-nonsense biotope, freed from human nuisance and conditioned consumption"

- Paul De Roy
There is a simplicity and 'back to nature philosophy' that is often attributed to Scandinavian countries. The same simplicity is present in Paul De Roy's paintings. This comes from his great passion for landscapes that are rich in history and culture but at the same time desolate and vacant. He strives to represent the nature of a place littered with human trace. Returning to Swedish and Norwegian landscapes he calls "no-man's-land" in his series 'Lapland', 'Svalbard's Fairy Tales', 'Spitsbergen' and 'Spitsberge Sprookje' in order to "praise the empty land as a symbol of victory from nature over culture" populating his paintings with "mythological elements, which results in magical-realistic works of art".


'The Island' - Oil on canvas, 50 x 130cm
Whilst the titles of each work often refer to human relationships and the transitional nature of these relationships, for example 'Marriage Under Review Again' (featured above), the titles of his series are named after places and the unworldly. Through this decision De Roy both grounds people and relationships in a place, whilst distancing these landscapes from the viewer by identifying them as 'magical' and 'fairy tale' places.
"Nordic landscapes, by contrast, have the power to warn us that we have not acted on our primeval desires, that we have silenced our passions to no purpose, that our gestures have been too small, that culture is nothing but motions of moderation and imperfection"

- Paul De Roy
Throughout his career Paul De Roy has returned to nature as a way of rebelling against our capitalist society. Tapping into the history of the landscapes he depicts, De Roy's collection of paintings give the viewer a moment of solace in a mass produced, over commercialized world. They are still and quiet, transporting the viewer into a fictional world.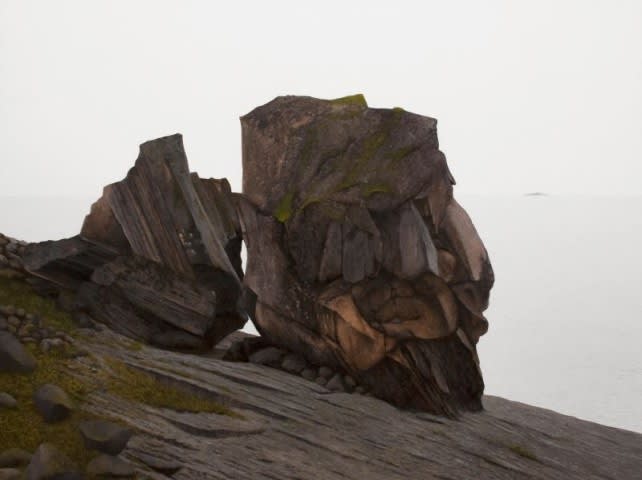 'Marriage Under Review Again' - Oil on canvas, 90 x 120cm
For more information on any of these artworks contact us on 020 7730 7656 or email Rosie at rosie@plusonegallery.com.